If you're in the Lawrence, KS community, chances are you've heard about Red Dog's Dog Days. If you're not from around here, buckle up, cause this story is a fun one for me to share. Since moving to Lawrence more than a decade ago, I knew about Red Dog's Dog Days but hadn't had the chance to attend. This year, I was proud to be a Red Dog's Dog Days sponsor.
What is Red Dog's Dog Days?
Don Gardner, known affectionately as Red Dog — I'm largely assuming because he was a member of the U.S. Marine Corps, and Marines are also known as Devil Dogs — created a summer workout program that's open to anyone who wants to show up. Red Dog started this program in 1984, and back then it was designed for football players at Lawrence High School who needed extra workouts in the summer. My husband, who played for LHS, attended these workouts when he was in high school. And at some point, Red Dog opened the program up to the entire community.
There's also been talk that the Guinness Book of World Records considered including this program in their records, but they don't actually have "largest community workout" as something they measure, so it's not officially recorded anywhere. But there was some coverage about it in 2009 and you can actually see my husband in it working out back then, as an adult, at the :42 second mark in this video. He's been going for years!
Once you attend 25 workouts in the summer,  you can earn a t-shirt. And let me tell you, people wear these shirts with pride. It's a badge of honor. It shows you showed up much of the summer, either at 6 a.m. (SO early!) or at 6 p.m. (SO hot!) and did an assortment of things like burpees, pushups, situps, squats, lunges, sprints, and distance running that had you sore and sweating thanks to an old Marine Corps drill sergeant. (I'm not actually sure Red Dog was a drill sergeant, but he doesn't let up!)
What I love about these workouts
Aside from the hard work that goes into these workouts (I noticed I had immediate gains in my strength!), I absolutely love this community. You tend to see the same people working out together. And they are so encouraging! You'll hear, "Way to go you guys!" as we finish up a tough session. You'll have people clapping and cheering for you. You'll see babies and toddlers in strollers. You'll see every age showing up and killing it during the workout. It's one of the most positive places I'm experiencing these days. And it's so motivating that I want to show up. I also can't tell you how many times I heard Red Dog tell stories about taping my husband up when he was in high school. He gets lots of shout outs from Red Dog during a workout, but so do many regulars.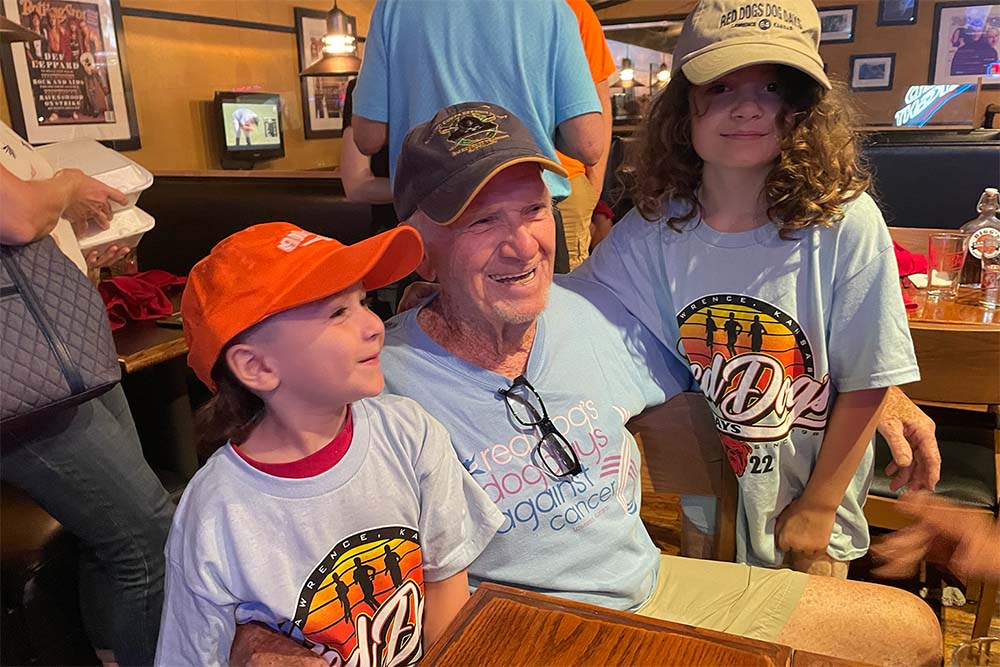 I also love that my kids enjoyed going. At some point, my son made friends with other regular kids, and even though they weren't out doing jumping jacks or running stairs with us, they still earned their own shirts. And Red Dog earned an invite to our kids' birthday party. It's been wonderful.
Becoming a Red Dog's Dog Days Sponsor
When I launched Sparrow Creative Studios, I intended to give back to the causes I believe in. As a life-long athlete, I wanted to support this positive community. While, as a sponsor, I was able to earn a shirt, I chose to get in my 25 workouts. But I take as much pride as my company's name being on the back of it as I do getting to wear the shirt because I earned it.
Check out the website to see how you can get involved. I promise you, it's worth it!